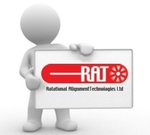 What is Shaft Alignment
Most machine sets having rotating shafts as an integral part of their structure, experience problems related to shaft alignment. Shaft alignment is a method or procedure by which shafts of machines such as motors, engines and turbines (drivers) are connected to pumps, compressors, generators etc (drivens) to ensure proper alignment. Improper alignment leads to increase of stresses in the shafts and thus on the equipment, which may result in premature failure of the machines.
The Benefits of Shaft Alignment
Aligning your shafts will result in...
• Increased operating time
• Increased productivity
• Increased production quality


Rotational Alignment Technologies
is an owner operated company that offers highly specialised shaft alignment services and pre-cut Stainless Steel Shim to the electricity generation, industrial & marine industries. Alignments are carried out using precision laser technology.
Rotational Alignment Technologies was established in 2001 and over the subsequent years has been contracted to align most types of coupled drives ranging across all sectors of industry. RAT can align pump sets, refrigeration compressors, crane hoist and traverse systems, turbines, marine main propulsion and auxiliary systems. Services are provided in New Zealand and overseas. RAT is the preferred supplier of alignment seminars for the Manukau Institute of Technology, Auckland, New Zealand..


RAT Specialised Service
As a specialised service provider RAT does not have any interest in providing clients anything other than shaft alignment solutions. RAT does not sell bearings, seals, pumps, does not provide repair, balancing or condition monitoring service. This means there is no conflict of interest with other facets of the build and/or maintenance process. RAT only provides clients top quality, independent, impartial shaft alignment solutions.
However, if you do have requirements for other services and products, RAT has a database of associated independent providers that we can put you directly in contact with.


RAT Clients
Rotational Alignment Technologies clients include manufacturing engineering, pump service & repair, motor rewinders, cold storage companies, food & beverage manufacturers, ship builders & repairers, electricity generation companies and many more. As the preferred supplier of shaft alignment services to Auckland's electricity generation sites, RAT has built up an enviable reputation for the quality of the results achieved with Gas Turbine electricity generation packages.

 
We look forward to assisting you with your alignment tasks.
Ron du Plessis
Managing Director